Happy New Year!
We finally have a master bathroom layout finalized. Here's the original plan, and what we worked out with our architect. This biggest issue with the original (left) is getting into the shower. We really wanted a pivot shower door, rather than a slider, so the toilet position would make things a little tight.
So, we moved the toilet to the other wall, behind a half-wall, and moved the door down to accommodate. We ended up going with a huge bathtub, the
kohler mariposa
. Our model is 6 feet by 3 feet. So, that takes up a little more space than was originally allocated to the tub. We're planning to tile the surround, leaving about 6 inches on each side of the bathtub. Massive, right? We have space for a 5 foot wide vanity, but I think we're going to go with a 4 foot. We're
never
in the bathroom at the same time & don't plan to be... so, for us, counter space is much more important than dual sinks.
I'm currently working on choosing finishes. We're leaning toward this vanity, with chrome hardware, and a white countertop with integral sink.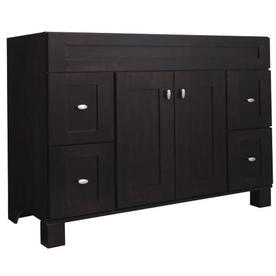 There you have it! Our new master bathroom! I'll admit, we aren't totally sold on the half wall to hide the toilet. I think it may feel too closed in as you enter the bathroom. What do you guys think?