I've been going a little pinterest crazy lately! I have a feeling that when we get up and running (digging, rather), we will be pressured into picking
everything
for our new home. So, typically Type A Aimee, I've already started.
Siding
Green vinyl, somewhere in the muted forest color range. This is a house in the woods, after all! I can definitely seeing us painting the door a fun color. Purple, even! :)
http://www.bristolspringswv.com
Flooring
We are leaning toward bamboo. I know I want something durable for future tiny humans, and fur babies. Hardwood is a little over budget, and laminate is always a good second option. We looked at Menards, and found some beautiful bamboo within our $3/sq.ft. allowance. The sample looked amazing, and I can't imagine changing our minds too far from this color.
Trim & Doors
It seems like everywhere you look, you see white trim. Well, R is pushing for natural wood trim. I was hesitant (and still remain, a little), but I think it could be a really nice, charming, touch. Something to this tune.
Lighting
This is an area where I'm going to do my absolute best not to go over our allowance. I'm prioritizing the kitchen and dining rooms, which may mean a low budged fixture in each of the spare bedrooms. Let's home I can save a little room an avoid the 2 for $12 #booblights!
For the dining room, I want something a little rustic, but charming. Of course, I feel in love with this fixture from Pottery Barn.
It's a little out of the budget at $500. So, I kept looking and found an-almost-just-as-good substitute from Lowe's.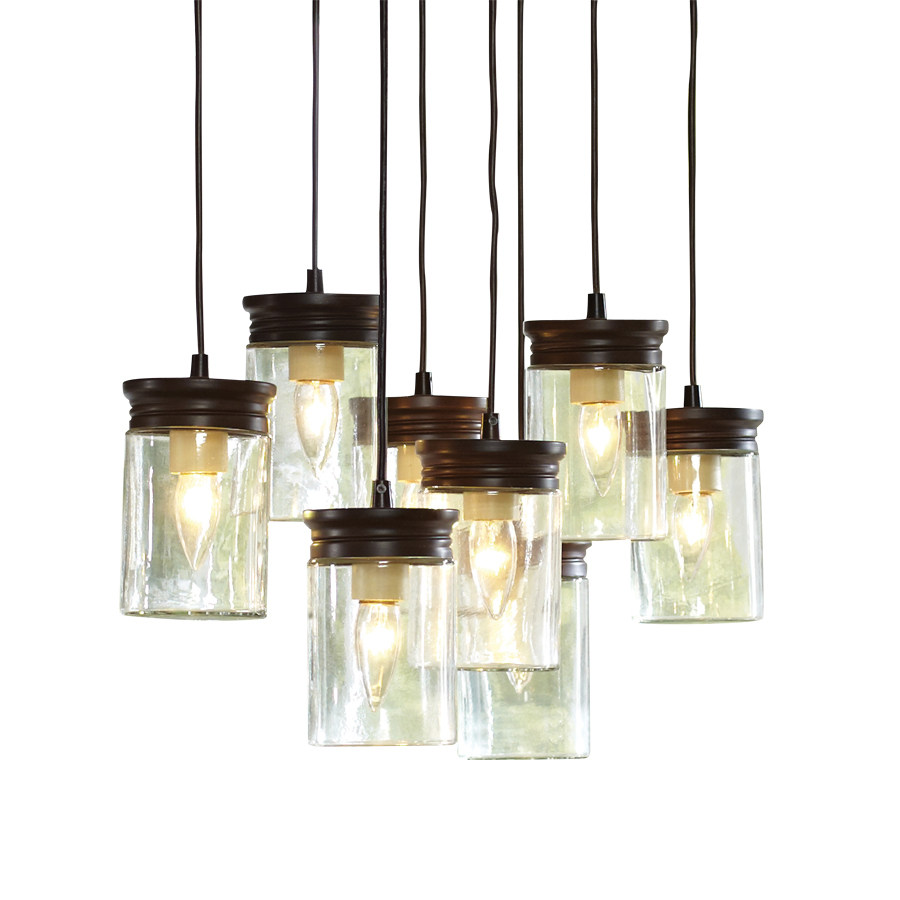 Edited 7/29/2014 to add: R just realized that lighting hanging from cable may not be our best option in the dining room, because of the sliding glass door to the deck. duh! A little wind would shatter this puppy to bits. So, back to the drawing board. I want something with this same feeling, but with a rigid frame. This is the one decision that is stressing me out the most. Help! Now the gears are turning, and maybe I can use the single pendant mason jar fixtures above the island... any thoughts?
I'm struggling with what to put above the island. I want 2 pendant lights, but I'm not sure what will go nicely with the dining room.
Cabinets
Natural wood finish. I'm not certain, but we may end up with maple. Everyone is going white in their kitchens, so we are shaking it up a little. They'll likely match the flooring, or be a bit darker. We're going to exhaust the allowance on these, so our counters will be cheapies for now, with the option to upgrade at any time! I found this picture of what matching flooring and cabinets looks like. I think I dig it. I'm not crazy on the backsplash, however.
Appliances
Stainless. I'm hoping to score one (or more) black friday deals this year! These are getting paid for out of pocket, so anything we can do to save money would be great!
Sink
Farmhouse! In white. It may end up a little crazy with wood, stainless, and white, but I think we can pull it off. I want a nice, high arch, faucet in stainless, to match the appliances.
I think that's about as far as we've gotten. Let me know what I missed!
-A.